Guild Hall's Stirring the Pot August 11th Installment Will Feature Alex Guarnaschelli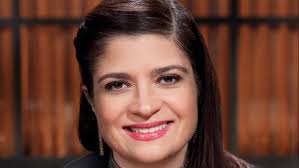 Alex Guarnaschelli – celebrity Chef, Food Network veteran, and restaurateur – will be joining the Guild Hall's 2019 Stirring the Pot series this Sunday in East Hampton.
Alex is the daughter of cookbook editors Maria and John Guarnaschelli. Her interest in cooking started while watching her mother test her cookbook recipes at home. Guarnaschelli worked at a number of restaurants in France, Los Angeles, and New York under famous Chefs including Daniel Boulud and Joachim Splichal. She went on to become the executive Chef at both Butter and The Darby restaurant in NYC.
In 2007, Alex appeared on Food Network's Iron Chef America, competing against Chef Cat Cora, and has since appeared as a judge on the program. She has also appeared many times as host, judge, and competitor in other shows including: Chopped, Food Network Challenge, The Next Iron Chef, Beat Bobby Flay, The Best Thing I Ever Ate, and Guy's Grocery Games. She is the chair of the Museum of Food and Drink's Culinary Council.
Join us this Sunday, August 11th at the Guild Hall for a lively conversation with veteran food critic Florence Fabricant and Alex Guarnaschelli. To purchase tickets, visit: https://www.guildhall.org/programs-events/stirring-the-pot-conversations-with-culinary-celebrities/